Champions Real Estate Fort Worth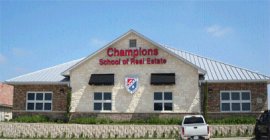 Champions School of Real Estate has opened the doors on a brand new 12, 000 square foot school in North Dallas. While many other local schools scale back their investments in the facilities and amenities they provide to their students Champions has brought the student environment to a brand new level with their new location.
"We have always believed in providing our students with the highest quality education experience and we believe the school environment plays a great role in facilitating your ability to learn. We have considered the students learning experience in every detail of our new building. We feel certain each student will receive the greatest care and attention from our staff, exceptional instruction from our quality teachers, and a superb, comforting experience in our new campus, " stated Rita Santamaria, President of Champions School of Real Estate.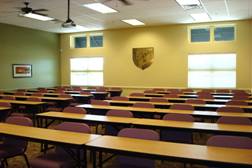 After outgrowing their Preston Road location, Champions School of Real Estate opened the doors on their flagship campus on Mapleshade Lane. The new building boasts 5 large classrooms featuring natural light, warm colors, tasteful decoration and a state-of-the-art projection systm. Students who attend classes here enjoy daily breakfast and coffee, easy access parking and an Internet bar among other amenities.
The campus correspondence testing center provides ample space for students to complete their work and take their test and has data ports to facilitate laptop connections.
The large break room provides a relaxing area for gathering on break and lunch times and facilitates the many sponsors that often provide lunch and dinner for the students.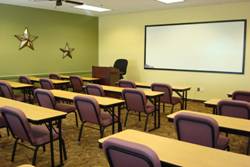 The break room is also outfitted with a 46" plasma big screen for students to catch up on the news while on breaks or during their lunch hour.
Conveniently located right off the George Bush Turnpike and Coit Road, the school is centrally located between Interstate 75N and the North Dallas Tollway. "Even though we have moved only 4 miles from our previous campus, our new facility is more centrally located and easier to get to from the major thorough fares. We are a stones throw from the Turnpike for easy accessibility. Students will now be able to reach us without fighting as much traffic as they did in the past" stated Bobbette Chronister, the DFW Regional Manager for Champions School of Real Estate.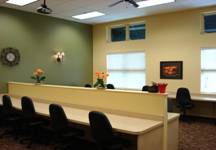 School hours are 8:00 a.m. - 5:00 p.m. Monday-Friday and 8:00 a.m. - 4:00 p.m. Saturdays. Courses are available in the classroom with award-winning instructors or by home study and online via This is the second stand-alone campus location in the Dallas Forth Worth Metroplex and one of six locations in Texas, including Houston and San Antonio. The North Dallas Campus address is 3721 Mapleshade, Dallas, Texas 775075 and their phone number is (972) 867-4100. For additional information or to be added to their contact list, please contact Campus Manager, Bobbette Chronister.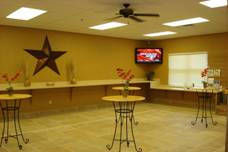 About ChampionsSchool.com:
Champions School of Real Estate® has enjoyed serving Texas Real Estate agents for over 25 years. We provide award winning Texas pre-licensing and continuing education courses in multiple formats to fit your busy schedule. Choose from live classes, correspondence or online for real estate, loan officer, mortgage brokerage, appraiser and inspector professionals. Champions School of Real Estate's® education courses are supported by quality instructors, award winning curriculum and a customer focused staff whose mission is to ensure you achieve and maintain success in your real estate career. Campus locations are in Austin, Dallas, Fort Worth, Houston and San Antonio.
Share this article
Related Posts