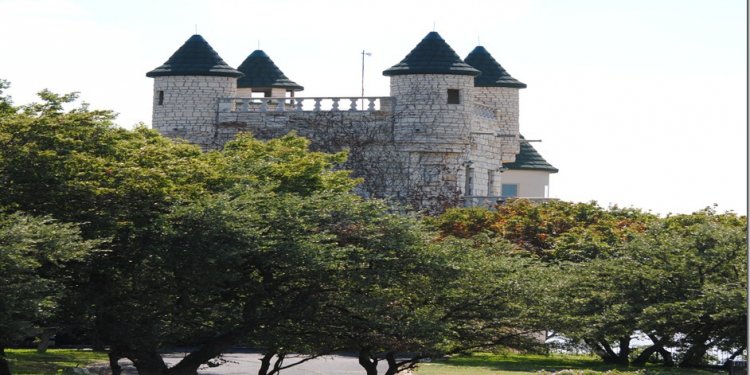 Castle on Eagle Mountain Lake
I felt that you might like to know that there is a castle somewhere on the east side of Eagle Mountain Lake, which is NW of Fort Worth, Texas. All I know of it is that it was built by bootleggers during the Prohibition Act, and they used it to store their liqueur. Sadly, I have never seen this castle and therefore I can't provide you with a picture. I plan to attempt to find it sometime in the future. If I do, I will send a picture.
Later, I received E-Mail that said:
I wanted to write you concerning the unknown castle on Eagle Mountain Lake near Fort Worth, Texas. While the legend sent in sounds interesting, we find it hard to believe the castle could possibly be that old. It is a private residence and has a family currently living in it. I can take a digital picture for you and send it in. I'm sorry I don't have more information but we do not think it could be that old. It is on a cliff overlooking the lake so it has a fantastic view. I will only be able to get a picture from the road, through a fence, but I'm happy to send it if it would help. This is definitely a castle.
In 2001 when we were driving around looking for properties to purchase we happened across this castle on Eagle Mountain Lake (and also "Heron Castle/Whiting Castle" on Lake Worth not very far away). We weren't looking for castles, but were so delighted to see them we stopped the car and turned around to get a better look. I seem to remember taking a picture of it as I keep my camera with me in my purse all the time. I don't know where that picture is now, though.
I remembered about what part of the lake we were driving around when we found it, so I looked it up on Mapquest. The castle actually shows up on Mapquest when you type in either Fort Worth or Azle, Texas (NW of Fort Worth). It is identified as the Castle Hill Estate. (It certainly is a castle sitting on a hill). By zooming in all the way on Mapquest I could read the street names. It appears to be located on Wells Burnett Road, which I believe turns into Ten-Mile Bridge Road further west, then Robertson, which is accessible from Boat Club Road to the east. From the west, Wells Burnett Road is accessible from Hwy. 199, the Jacksboro Highway. See the mapquest map below. Look in the top left hand corner and you will see the castle listed.
earchtab=address&searchtype=address&address=&city=Fort+Worth&state=TX&zipcod e=&search=++Search++
I then cross-referenced the street name on the Tarrant Appraisal District web site. The property actually sits right on the city limit boundary of Fort Worth, and is listed on the Tarrant Appraisal District web site as located in "no city". In trying to find the exact property I ran into difficulty. While Mapquest showed a several acre tract where I remembered the castle being, and where it was listed as the "Castle Hill Estate;" the TAD web site showed no such large acreage tracts. In reading through each property on the TAD it appears that the property may have been subdivided within the past few years and several half-million dollar homes built there in its place, or at least, very close by. It appears that all of the houses on that part of the road were built between 1971 and 2003, with most of them being built since 1998. (So much for the bootleggers during Prohibition).
The castle I remember seeing was definitely a castle, but did not appear to be old, but a new reproduction, and with beautifully landscaped and shaded grounds. Like a previous post, it was sitting on top of a bluff, or a cliff, facing north overlooking the lake. It was on the south-west side of the lake. The new neighborhood, as listed on the Tarrant Appraisal District web site, is "West Shore Estates". At any rate, the castle I remember was a private residence and appeared to be occupied with a huge estate fence around it.
Mapquest could be off a few blocks in it's listing of the Castle Hill Estate, or could just be a not-current map. I remember the castle sitting on a large tract of acreage which may be just a little to the east of where Mapquest shows it.
My girlfriend and I were tooling around West Fort Worth looking for a future residence, and I decided to take her down Boat Road to the Fort Worth Boat Club, at which time we passed this castle. It is marvelous, overlooks the lake, and even has a stone walled boat dock below.
The castle on Eagle Mt. Lake was built in 1996 by Gene de Bullet to resemble his family's ancestral castle in Scotland. He calls the four story mansion, Facade Nord, which means north face.
An article published Friday May 13, 2005 in the Star-Telegram Neighborhoods Up Close section tells the truth about the castle from the owner. This castle was built in 1996 on the shore of Eagle Mountain Lake. The castle is a replica of the owners ancestors in Scotland. The castle in Scotland was named the Buchanan castle, it is now in ruins. The owner was able to recreate and replicate the Buchanan castle(from his ancestors). The castle on Eagle Mountain Lake is one-quarter the size of the original Buchanan castle in Scotland. If you are interested you can contact the Fort Worth Star-telegram to receive a copy of this article published.
The Castle at Eagle Mountain Lake, outside of Fort Worth Texas is Called Facade Nord or North Face. It is owned by a local prominet lawyer Mr. Gene de Bullet. It is a 1/4 size replica of Castle Buchanan in Scotland once owned by De Bullet's ancestors.
A few facts from the Tax Rolls:
Market value: $1, 476, 200
Square Feet: 6, 570
Year Built: 1996
I grew up on Eagle Mountain Lake just a few miles from the castle that you have listed as unknown. In is located on Boat Club Rd. about half way between Lechner Rd and where Boat Club Road dead ends into the Fort Worth Boat Club. It is located on the south side of the road over looking Eagle Mountain Lake. Unfortunately it does not have an exciting or romantic story behind it. It does not have a name as far as I know, and it was built in the early 1980s. It is currently in use though I do not know who the residents are. I have heard that to spite the old age styling of the castle, it is actually quite modern on the inside.
Share this article
Related Posts