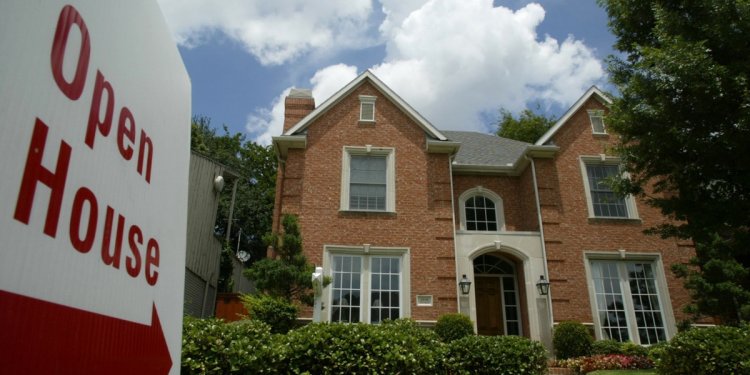 Dallas House prices
With Dallas-Fort Worth home prices at the highest point ever, don't be surprised if you hear more chatter about the potential for a housing bubble.
But analysts are less sure that is what's going on.
North Texas home prices jumped by 14 percent in May, one of the largest year-over-year gains on record for the area. The number of sales set a record, too.
Median home sales prices were at a record $215, 000 last month for preowned single-family homes sold by real estate agents.
Home prices in the area have shot up by more than 40 percent during the last five years, thanks to record economic growth in the region and a historic shortage of properties to purchase.
The spike in home costs was caused by true housing demand — not speculation. Still, the unprecedented price gains are bound to make consumers worry and spawn fears of another home price bubble.
Overheated home prices in many Western and East Coast U.S. markets are credited with kicking off the recession, which caused nationwide home price declines.
"I don't know if what you are seeing now can be defined as a bubble, " said Dr. James Gaines, an economist with the Real Estate Center of North Texas. "But if you have an extended period of time of double-digit price increases, you are creating a potential problem in the future.
"That doesn't mean next year prices will turn around and collapse, " Gaines said. "But at some time it has to catch up to the market."
While some national analysts are already saying Texas' home prices are overvalued, they have been shy about forecasting a price crash.
A significant increase in mortgage rates or sharp decline in employment growth in North Texas would trigger a drop in sales and ease price pressures, they say.
Gaines said some of the huge increase in Dallas-Fort Worth home prices is because a larger share of higher-priced houses are trading, which pulls up the median and average. "It's both a real price increase but also somewhat of a statistical thing since more expensive homes are being bought and sold, " he said.
Whatever the reason, Gaines said the jump in prices will affect potential homebuyers.
"Some people will pull back from the market, and others will think they have to buy now before it goes up more, " he said.
This is the second year in a row of substantial price rises in the D-FW home market.
"Last year we were talking about this, too, " Gaines said. "Generally there is always a reckoning that comes down the line somewhere. But it might not be a collapse."
Dallas housing costs are still affordable in an area that's seeing robust job growth, said Stan Humphries, chief economist for online home marketing firm Zillow.
"Dallas home value appreciation rates may make it feel like another housing bubble, but the reality is that homes are still really cheap there relative both to incomes and to the alternative of renting, " Humphries said. "I can completely understand why people see high appreciation rates and think about price bubbles.
"The reality, though, is that bubbles can be better seen by looking at affordability relative to historical levels or, alternatively, home prices relative to rental prices, " he said. "In both these measures, Dallas is not currently in the midst of a price bubble."
The local housing market is still in uncharted waters.
It was the largest one-month sales total ever for North Texas, according to data from the Real Estate Center and the North Texas Real Estate Information Systems.
With the strong sales, the number of homes listed with real estate agents in the area dropped 15 percent from this same time in 2014. There was a 2.4-month supply of homes in real estate agents' multiple listing service, less than half of what is considered a normal inventory.
May's strong home sales and price spike will put more pressure on the local housing market, which is stretched with more buyers than sellers.
National surveys show that the Dallas-Fort Worth area is seeing the largest annual home price gains in the country. Prices here are rising at about three times the long-term average rate of residential appreciation for the area.
Through the first five months of 2015, preowned home sales in North Texas are running 4 percent higher than for the same period last year.
Share this article
Related Posts