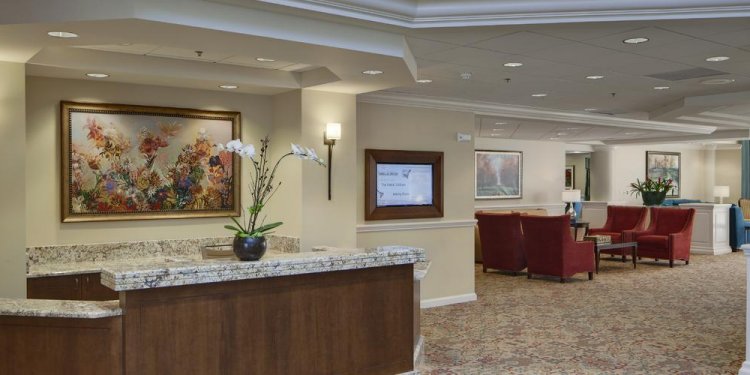 Lutheran Homes Arlington Heights
800 W Oakton St
Arlington Heights, IL 60004
(847) 368-7400
I have mixed feelings about this place. My grandmother-in-law is there, and she is very happy. She loves the activities and social aspects of the home. The staff is usually attentive and takes good care of her. She even says the food is good! I've been in a good number of nursing homes, and I often noticed a stench. I have never noticed that about the Lutheran Home. They seem to keep things very clean. My only problem is that the place costs roughly $10, 000 a month. She has been there for 4 years, and has drained her savings, stocks/bonds, the money she got from selling her home; basically every penny she had. It's not like the Garlands of Barrington as far as class and sophistication go, so I really think they are over charging Seniors.
My mom was in the lower level dementia unit at Lutheran Home for the last two years of her life. When she died, the nurses and aides cried with us. She received excellent care, and the staff was good to us as well. There will always be a few individuals that are not as top notch as you would like but no one was incompetent or mean. We visited at all hours just to check the off shifts, and never witnessed anything worrisome. Mom was in rehab first, and the care was better than the place we moved her from. However, the staff was unpleasant to us. Never chatted or offered information. One time, Mom got sick all over her clothing. They rolled it up and stuffed it in her hamper without saying anything to me about it. I discovered it when I brought her laundry home to wash it. Now that was just plain mean. They were kind to Mom though. I know because I if a nurse or aide was there when I arrived to visit, I'd listen outside the door. We decided to move Mom into the assisted living facility from rehab and everything was all set two weeks ahead of time. On the day before her move, the administration decided that Mom's assets "were not quite where they would like to them to be" and we were to sign everything over to them. If anything was left at the end, they would return it to us. We were scrambling to find an elder law attorney. It turns out this is not legal and so we did not do it and Mom still moved as scheduled. That was pretty underhanded. I understand their motivation, they do not get paid as much from Medicare as from an individual so they didn't want us spending all her money and then they are stuck with Medicare. Regardless, it added a lot of stress to a stressful time.
I have been coming here since I was a little kid and I can say that this is probably the cleanest nursing home I have ever been to. The staff is very friendly and competent. The amenities are always kept clean. They are in the process of remodeling and have put up another building. I would definitely recommend this nursing home over any other in the area. They also have a great group of doctors, nurse practitioners, and nurses that work there. Talk to the staff to get a better idea of which doctor fits your needs.
Sadly, my grandmother fell last week and basically shattered her humerus, so when she is released from Northwest Community, she will need to go into a rehab facility. On Sunday, me, Mom, and Dad went to look at the brand new MyRehab facility at Lutheran Home/Luther Village. It has literally been open weeks. We were given a tour by Dave, their Marketing Coordinator. He was very empathetic to our situation and got all of the important information from us. While MyRehab at Luther Village isn't the most posh place (the rooms are pretty sterile) it is certainly one of the cleanest nursing/rehab facilities I've seen. Rooms are private with private bath, and individual temperature controls. Orthopedic rehab is done daily. At this point in time, Luther Village is our first choice for her rehab, based on first impressions alone. I'd say that speaks pretty highly of them.
If there were a zero star rating...I would be using it instead. My parent was supposed to come here for short-term rehab. They promised all of these things (of how they would help my parent) and then went back on their word. Keep away...it's BIG business. They will say whatever you want to hear to get you in, and then not follow through on anything they say. No one communicates with one another and/or follows through. We ended up having to move my parent shortly after they arrived to a better, cleaner facility. No one was to be found to hear our concerns or complaints. Everyone was too cowardly to own up to their mistakes and actually face the music. They caused my family and my parent a SEVERE amount of emotional distress. It was a nightmare two days, and I will never forgive them for it. If you love your parent or loved one KEEP them AWAY, especially from their head physician. This man has ZERO respect for patients and their families. He was so abrasive and disrespectful he made my parent CRY. He was verbally abusive and disrespectful to my family as we were trying to advocate for my parent and ask questions. I will be reporting his behavior to an ethics committee and a corresponding medical association. Again, STAY AWAY.
Share this article
Related Posts