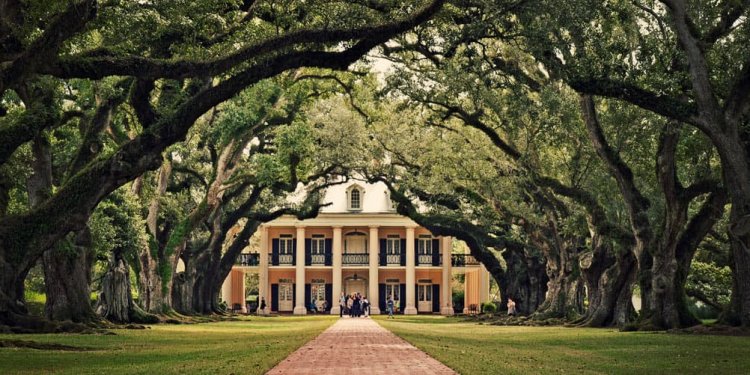 Prettiest Homes
This stunning Greek Revival on the Mississippi River was built in 1837 and is a true relic of the Old South. Originally a sugar cane plantation, it's famous for its Creole-inspired interiors and the 800-foot-long corridor of live oaks dating to the 1700s. Today, you can tour the property and even spend the night in a (mercifully air-conditioned) cottage on the 25-acre grounds.
This critically acclaimed net-zero passive house, completed in 2013, is truly revolutionary. It's powered entirely by solar panels. Hardwood floors are made from reclaimed shipping crates. Drought-resistant native plants line the patio. And the kitchen comes equipped with an induction stove. Want to see if it lives up to the hype? The current owners rent out spare rooms to guests on Airbnb.
Oh, Frank Lloyd Wright... what can't you do? This iconic house built over a 30-foot waterfall is a total architectural marvel, thanks to cantilevered floors and T-shaped beams integrated into a monolithic slab of reinforced concrete.
Yep, Frederick Law Olmsted, the guy who designed NYC's Central Park, is the man behind the formal French gardens and rolling English landscape here. George Vanderbilt, who built the home in 1895, called the 250-room mansion his "little" mountain escape.
In 1949, architect Philip Johnson built the industrial-chic Glass House as a weekend getaway from the city. (Must be nice.) It won't be on the market anytime soon-it was designated a National Historic Landmark in 1997-but it is open for guided tours.
The cluster of colorful Victorians known as "postcard row" is one of San Francisco's most photographed locations. But anyone growing up in the '90s will refer to these beauties as the Full House houses. Keep your eye on the market if you've got a few mil to burn-these guys occasionally go up for sale.
It sure feels like this place was plucked off a historic street in Cuba or Puerto Rico, but Hemingway's former pad sits in breezy Key West. Today, it's a museum and home to 40 or 50 polydactyl cats (meaning they have six toes), some of whom are direct descendants of Hemingway's own famous feline, Snow White.
This house, which dates back to 1927, was recently on the market for a cool $20 million. With its billiard hall, tennis courts and private putting green, it's the kind of place that conjures images of Hugh Hefner-types, smoking cigars in velvet robes.
Share this article
Related Posts