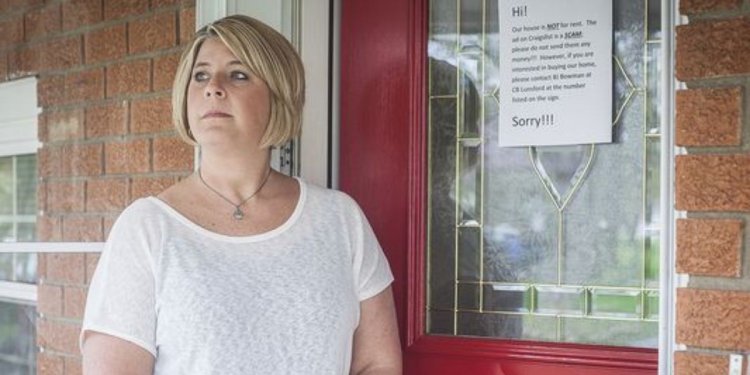 Craigslist Renting House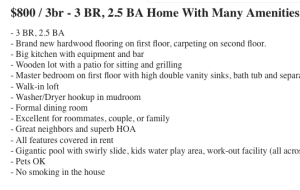 Even though it's nothing new, we've recently started seeing a resurgence of reader e-mails asking if a really awesome-sounding rental listing on Craigslist might be a scam, so we figured it was time for a refresher course.
The scammy listings are often for completely fictional homes and the sole intent of the posting is to either steal your identity or swindle you out of a "fee" for a credit check that will never actually occur.
So with that in mind, here are the warning signs to look for when trying to determine if a listing is bogus:
1. SOUNDS GOOD. WHERE IS IT AND WHERE ARE THE PHOTOS?
Most of the questionable listings readers have sent to us don't immediately set off many alarm bells when you're simply looking at the info on Craigslist.
For example, here is the full text for one recent listing:
$800 / 3br – 3 BR, 2.5 BA Home With Many Amenities
– 3 BR, 2.5 BA
– Brand new hardwood flooring on first floor, carpeting on second floor.
– Big kitchen with equipment and bar
– Wooden lot with a patio for sitting and grilling
– Master bedroom on first floor with high double vanity sinks, bath tub and separate shower
– Walk-in loft
– Washer/Dryer hookup in mudroom
– Formal dining room
– Excellent for roommates, couple, or family
– Great neighbors and superb HOA
– All features covered in rent
– Gigantic pool with swirly slide, kids water play area, work-out facility (all across the street)
– Pets OK
– No smoking in the house
This sounds like a pretty good deal. In many cities, $800/month for three bedrooms and 2.5 baths is a steal. We've also seen this same listing going for as low as $350/month in one city.
Regardless, the property has just about everything you'd need. So where are the photos to show off all these features? And where in Tampa is this place?
Of course, just because a listing lacks these photos and an address doesn't mean it's a scam, but much like people who refuse to post photos on their online dating profiles, it's a justifiable cause for concern.
Share this article
Related Posts