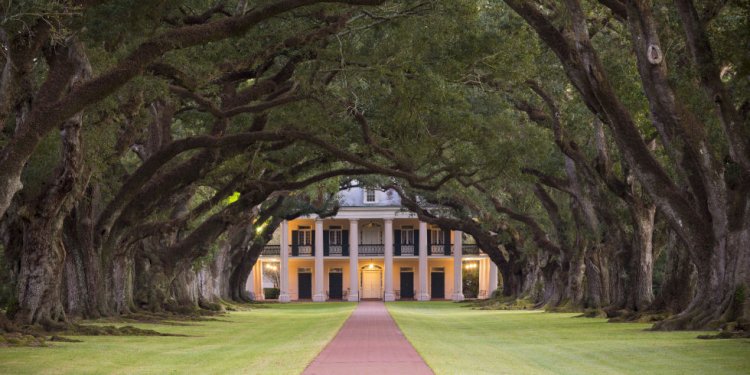 Most beautiful houses in America
Urban planner Jeff Soule remembers the moment he fully appreciated the beauty of Baltimore's Charles Village. He was leading a tour through tree-lined streets of cheery row houses when it started to pour. "I was with 20 visiting Chinese mayors, and there was this wonderful African American woman—not only did she invite everyone up on her porch, but she made them all lemonade."
Eye-catching design and green spaces go a long way toward making a neighborhood attractive, but the most beautiful neighborhoods are also enriched by this kind of welcoming community spirit. And they tend to resonate with American history, whether recalling a bygone way of life (the South of Broad area of Charleston) or acting as an open-air museum that showcases the work of iconic architects.
Chicago's Oak Park, for instance, counts 23 of Frank Lloyd Wright's modestly elegant, low-slung buildings, but the Americana runs even deeper: 90 percent of the neighborhood is classified as a historic district. No resident is more than two blocks from a bikeway, and the neighborhood is easily reached on the El train.
Some modern developers strive to manufacture an instant neighborhood-y feel and to create the kind of pastiche that a gorgeous, lived-in neighborhood possesses naturally. But Soule, director of outreach for the American Planning Association, says he hasn't found many areas developed in the last 25 years that tick all the boxes: "A lot of newer neighborhoods haven't stood the test of time yet."
Fledgling and struggling neighborhoods alike can look to the Paseo in Oklahoma City as a success story. This artists' colony of Spanish Revival 1920s bungalows was marred by mid-century gang violence. But unfazed artists moved in, taking advantage of low property values, and eventually brought the neighborhood back to a state of homey, charming bohemianism—just two miles from downtown.
Accessibility and authenticity are valued as much by travelers as by prospective residents. After all, making a detour to one of these beautiful neighborhoods isn't just visually pleasing—it can reveal a city at its most genuine. You may not be offered free lemonade, but you may still want to move in tomorrow.
Share this article
Related Posts