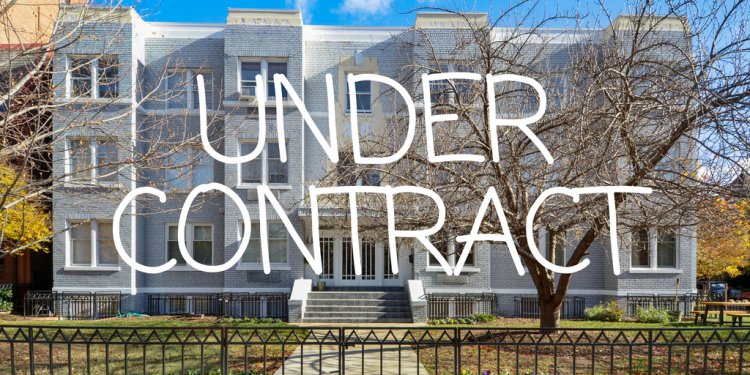 North Arlington Real Estate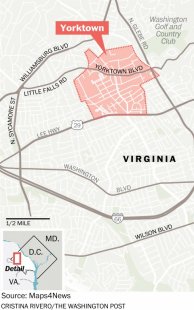 Additions and tear-downs: The Yorktown Civic Association area is situated roughly a mile and a half from the East Falls Church Metro stop on the Orange and Silver lines, and for a lot of residents it is a car-oriented neighborhood.
Some residents drive to work while others use the Arlington Transit (ART) buses that connect to the Metro, according to Michael Cantwell, who is president of the Yorktown Civic Association and has lived in the neighborhood since 1998. Cantwell, whose wife is an elementary school teacher, has worked in several locations since moving to Yorktown. "I've been able to get to all of them within a reasonable amount of time, " said Cantwell, who now works at the National Geospatial-Intelligence Agency headquarters in Springfield, Va.
And a lot of people work from home, Cantwell said.
The first subdivision within what is now the Yorktown group's territory was Milburn Terrace, which dates to the early 1940s. As the area grew and changed, the name Yorktown Civic Association ultimately was adopted in 1992. Houses in the area include split-levels, Cape Cods, Colonials and ramblers. New Craftsman-style homes stand side by side with original houses with and without additions attached. Sometimes an original house with an addition will later be flanked by new construction on either side after original houses are torn down.
Shopping and recreation: The Lee Harrison Shopping Center is among the most popular places where area residents head for most of their needs, whether it's to the Harris Teeter supermarket, Starbucks, Chesapeake Bagel Bakery, Duck Donuts or other restaurants. "What's good about this is for a lot of people this is walking distance, " said Craig Mastrangelo, an agent with Re/Max Allegiance in McLean, Va., and a member of the executive committee of the civic association. The Garden City Shopping Center, a strip mall, is home to individually owned businesses, including the original location of District Taco.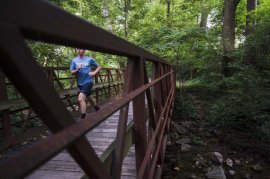 Residents enjoy three neighborhood parks, so many don't necessarily mind if an addition to their house leaves them with a smaller back yard. "There's going to be a park nearby, " Stacey O'Hara said. At Chestnut Hills Park, families sometimes leave outgrown toys and trucks so others are able to use them.
A jogger runs through Rock Spring Park in the Yorktown community. (Amanda Voisard/For the Washington Post)
Arlington Parks & Recreation's 18-acre Greenbrier Park, adjacent to Yorktown High School, has a football field, three baseball diamonds, six tennis courts and a basketball court. There's also a running track and a Parks & Recreation pool, which is managed by Arlington Public Schools. The Rock Spring Garden Club maintains the gardens at the two-acre Rock Spring Park, which has walking trails.
The Knights of Columbus, located just outside the Yorktown boundaries, also has a pool that non-members can join for a fee.
Living there: Yorktown is bounded roughly by Lee Highway on the south, North Jefferson Street to the west, Little Falls Road and Rock Spring Road to the north and Old Dominion Drive to the east.
In the past 12 months, 39 single-family homes have sold in the Yorktown Civic Association are, according to Mastrangelo. They range from a six-bedroom, nine-bath Craftsman-style home for $1.77 million to a three-bedroom, one-bath brick Colonial for $667, 000.
There are 10 homes under contract, ranging from a seven-bedroom, seven-bath Colonial for $1.999 million to a three-bedroom, two-bath Colonial for $724, 000. There are no properties on the market.
"Our neighborhood has slowly transitioned from an older to a newer" one, Mastrangelo said.
Anita Kumar and her son, Manav, play at the Chestnut Hills Park in the Yorktown neighborhood. (Amanda Voisard/For the Washington Post)
Schools: Nottingham Elementary, Discovery Elementary, Williamsburg Middle, Yorktown High. "Discovery is officially outside of the YCA boundaries but draws many of the YCA students, " Cantwell said.
Share this article
Related Posts