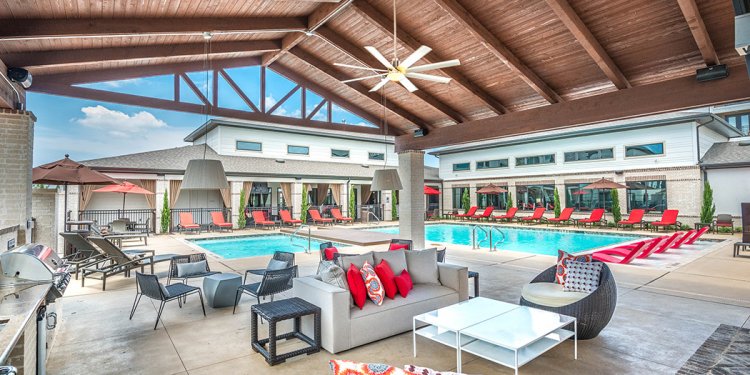 Dallas Fort Worth apartments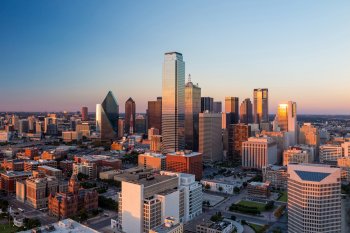 With a booming economy in North Texas, metrics for the Dallas and Fort Worth multifamily housing markets continue to hover around peak levels.
In 3rd quarter 2016, apartment occupancy in Dallas/Fort Worth reached an all-time high of 96.0%, reflecting underlying market strength and strong lease-up velocity of new units. In turn, rent growth levels remain well above the historical norms.
Pushing up occupancy in 3rd quarter was strong demand. In 3rd quarter 2016, absorption in Dallas/Fort Worth topped 9, 300 units, a peak for the current cycle. The region's demand was driven by absorption in Dallas, which reached the highest level since 2000. In Fort Worth, absorption was at a two-year high.
On an annual basis, the region's occupied unit count grew by 18, 770 units, an absorption figure above the five-year average of 15, 100 units.
Rising demand levels were due to a combination of strong job growth and large numbers of new apartment completions, which have leased up quickly. The region's employment base has expanded at an average annual rate of 3.4% over the past four years. Apartment inventory has steadily swelled, with another 15, 120 new units completing in the year-ending 3rd quarter 2016.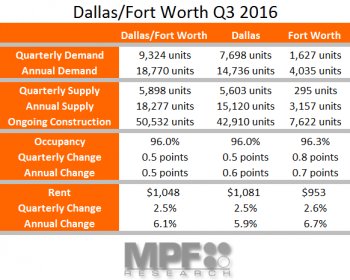 Another 50, 532 units were under construction at the end of 3rd quarter 2016, down just 4.6% from the all-time high recorded a quarter ago. Construction is concentrated in the Dallas metro, where nearly 43, 000 units are under way. Furthermore, Dallas/Fort Worth was the nation's runner-up for year-to-date multifamily permit volumes in August, with 16, 728 units approved, a 7.8% year-over-year increase.
Despite the large construction volumes, rents continue to climb at a fairly rapid pace. Quarterly rent growth settled at 2.5% in Dallas and 2.6% in Fort Worth. Annual rent growth for the markets landed between roughly 6% and 7%. Sustained momentum is largely due to performances in market segments less vulnerable to competition from new supply. Class B units saw 7.3% annual growth. Among neighborhoods in Dallas/Fort Worth, North Arlington, Ellis County, North Dallas and Mesquite all logged increases of roughly 10%.
Share this article
Related Posts