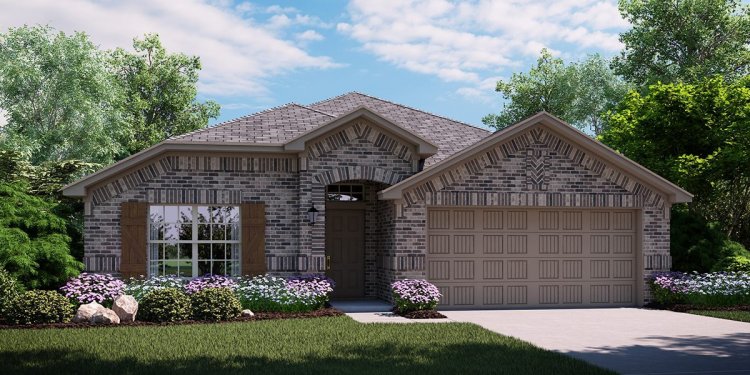 New construction Homes in Texas
Named after an actual round rock found in Brushy Creek, clever I know, Round Rock is home to the 19th century Sam Bass Shootout, a once Deputy Sheriff gone rogue. To this day his tombstone can be found in the Round Rock Cemetery. Though it may not be a happy ending for Sam it gave residents something to be proud of. Over the years this once small town has grown, and has a few new things to pride themselves on. Whether that be the excellent school districts which excel not only academically but in extracurriculars as well, or their nationally acknowledged Round Rock Donuts with the orange tint, it is clear that they have come a long way.
Having an 8% drop from Austin housing; Round Rock is the ideal place to plant your roots. Commuters embrace the TexTags which can get you anywhere quick, and adventure seekers don't have to look far for some fun. You can Zip Line across Lake Travis, find yourself covered in paint after the annual Color Run, or even attend a University of Texas football game.
Like I said Round Rock ISD is doing pretty well for themselves. They have been recognized by the Texas Education Association, and have adopted the motto, working towards preparing for college from elementary school. Here you'll find students have the opportunity to take more than 85 dual credit classes through the RRISD partnership with Austin Community College.
Any local will insist you try Hoody's out for lunch. They make the best subs, wrapping the cheese, pickled peppers, and onions in the meat, topped with oil, inside delicious homemade bread. After you grab a bite to eat you can head over to the Dell Diamond for a Round Rock Express Baseball game or to the Stars Stadium for some intense hockey. If you're not big on the cold crisp hockey air maybe Lake Travis would better suit you, especially during the hot Texas summer days. Residents carpool out with the boats and jet skis for fun filled days on the water, and relaxing afternoon's barbequing on the banks. Speaking of water Round Rock hosts an annual Boat Regatta, you'll find 5 year olds to 50 year olds paddling their homemade works of art across the lake. This past year we saw big boats, small boats, long boats, shorts boats, chomping alligators, and even a 6 person fire truck, and oh I forgot to mention they're all made out of cardboard and duct tape- I know, it was crazy.
As you can see it's easy to get caught up in the activities to enjoy, but when you need a break there are some great shopping hot spots like the Round Rock outlets, and even an Ikea. The Ikea has an area where you can drop your kids off while you shop, or just enjoy a little break... and I won't tell anyone if you take a nap on one of the couches, just don't forget to pick them up before you leave. If shopping isn't your style there are numerous golf courses around the area, museums, art galleries, and trifectas of go karts, bowling, and arcade games at places like Main Event.
In Round Rock you'll find the possibilities endless especially with not only Cedar Park, Leander, Pflugerville, Georgetown, but Austin at your fingertips. So come join in on the fun! Here at NewHomeSource.com, you can browse the most comprehensive directory of Round Rock new homes, and with 5, 173 homes to choose from, you'll be sure to find one that suits you best. These homes are constructed by 78 builders in 396 new home communities across the Round Rock area. Choose from a list of 3, 684 home plans and 1, 376 quick move-in homes, depending on your moving needs. From there, you can choose your price, which will range from 32800 to 6175000. Then find the idea size between 453 and 12315 square feet. Finally, the homes in Round Rock have between 1 to 6 bedrooms and 1 to 7 bathrooms.
Share this article
Related Posts