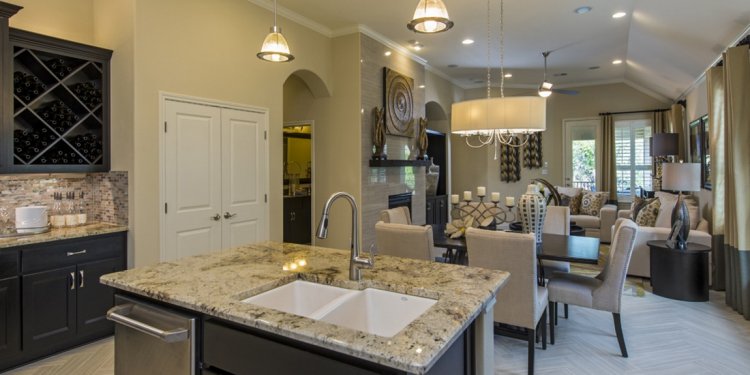 New Homes construction Texas
You may remember the Alamo, but there's so much more to know and love about San Antonio. It's a place like no other, with a rich cultural mix and a laid-back, slow pace to life. Locals call it "the biggest small town" because of the dueling large population and great friendly charm. San Antonio is a big tourist destination, meaning there are tons of great activities for people of all ages available. And, because it's the fastest growing of America's ten largest cities, there are excellent new homes and a constant stream of new businesses, restaurants, and stores. You'll feel right at home in this Texan town.
San Antonio is great for families. Neighborhoods all over town and in the surrounding suburbs are developed with kids in mind. Houses of all sizes have access to large yards, excellent schools, and great parks and swimming centers. With new construction happening all over town, there's sure to be a house calling your name. Kids will love going to the Witte Museum where the HEB Science Treehouse is full of interactive activities that will get them learning while they have fun. Or see beautiful contemporary art at the McNay Museum, where you can picnic on their rolling lawns. Nearby Brackenridge Park boasts an old train for the whole family to ride around the park on and the San Antonio Zoo will wow everyone with its wonderful animals. Just outside of town you'll find Sea World San Antonio and Fiesta Texas, each great for a family fun afternoon.
San Antonio has quite the unique culture. Half of the population is Hispanic, and while you don't need to know Spanish to get around, it can seem like you're in a whole different world some times. Traditional Mexican holidays like Cinco de Mayo and Dia de los Muertes are celebrated in full force here. Tamales are a traditional Christmas food. And, of course, San Antonio is the unofficial capital of Tex Mex cuisine, which is available on pretty much every corner. Fiesta San Antonio is a huge festival and party that happens each spring in San Antonio to honor the battle of the Alamo. There is so much to do for the two weeks of Fiesta from seeing the crowing of El Rey Feo to eating some Mexican street food and listening to live Tejano music to the always beautiful Battle of the Flowers Parade. The unique San Antonio cultural mix is one of the great features of this city.
Locals don't get down to the Riverwalk so often, but it is fun for a special night out. At Christmas time, the river comes to life with exquisite light displays you must go see. Be sure to head down to Southtown, the up-and-coming art district that boasts great eateries like The Monterey and Rosario's. Southtown is also home to First Friday, a community art event that happens each month. The recently renovated Pearl Brewery is a gem. Be sure to grab some local produce at the Saturday morning Farmers Market, or some late night tacos and margaritas at charming La Gloria. There's something for everyone here, including some great shopping at malls like North Star and La Cantera.
People remember the Alamo, but sometimes forget about the great charms of San Antonio. Find your new house in San Antonio today so you can be a part of this growing, vibrant city. NewHomeSource is the authority on San Antonio new homes and San Antonio new home builders!
Share this article
Related Posts